Setting up a Quora business profile is a great way of reaching potential customers and prospects and building up your brand.
With just 10 minutes of your time, you can easily create a business profile that will help you get noticed and increase your chances of success.
In this guide, I'll walk you through the simple step-by-step process of setting up your business profile and some things you need to do to optimize your it for better odds of success.
Let's get started.
Setting Up Your Quora Business Profile
To start the process of opening a business profile, all you need is an active Quora user profile and a few basic details about your company. Your user profile will be used as a way for you to log in to your account.
Here's an example of what it's going to look like once you have access to your business profile.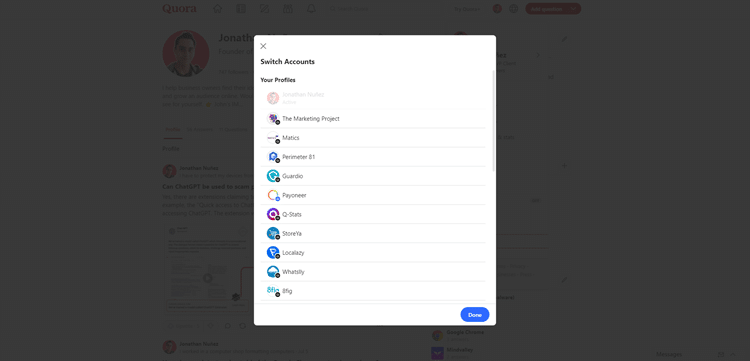 To start the process of creating your business profile, all you have to do is:
Login to the user profile you are going to use as your admin.
Head over to quora.com/business/create.
Once you are there, you should see a pop-up that says, "Create Business Profile". Click "next" to continue.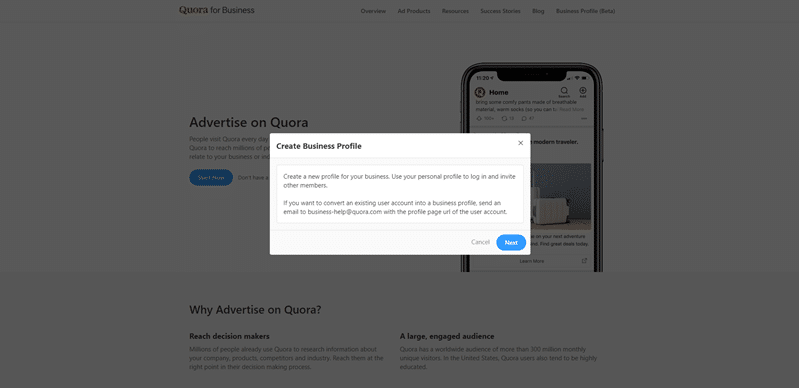 Enter your company information completely and accurately.
Once you finish, Quora will review your request within one to two business days. If they need further information, they will notify you.
Speeding up the process
For making sure the review goes well, make sure to:
Include the URL to your business site or online presence to verify the existence of your business.
Include an official logo and business description.
For the user creating the business profile, have a verified email address associated with the business domain.
Important:
Your profile will not be able to write answers on Quora until your business profile is approved.
If your business profile is approved, but you are still unable to write answers, contact business-help@quora.com with your business profile's URL and let them know what the problem is. They'll take care of it and fix it for you.
Conclusion
Setting up a Quora business profile is a quick and effective way to expand your reach and establish your brand presence.
With ten minutes or less, you can create a professional profile that will allow you to continuously attract new potential customers, engage with prospects, nurture them, and turn them into leads and paying customers and clients.
Having said that, your business profile will need to be approved before you can start writing answers on Quora. This ensures that only legitimate businesses can contribute content to the platform. However, the approval process is typically straightforward and can be completed within minutes.
So why wait?
Follow the simple steps outlined in this guide, and in no time at all, you'll have a fully functional Quora business profile that allows you to make meaningful connections and grow your brand presence.