I designed this Flywheel review to help you make an informed decision. I did a lot of research and used my years of experience as a customer to write it down.
If you want to know the kind of service you can expect, then you are in the right place.
Are you ready?
Let's get started.
This blog post was last edited on January 29, 2022, to reflect accurate information. If you have any questions about it, feel free to go to the bottom of the page and ask a question in the comment section.
Flywheel Review (Hosting for WordPress)
I started my online journey back in December of 2014, and I didn't know a single thing about hosting and things like that. That made it challenging to choose between the many companies out there.
I started doing some research and eventually, I came across this little company called HostGator. You may have heard about them. 😉
Anyway, I read their pricing page and discovered this plan that was $3.99/month (if my memory serves me right) for shared hosting.
I'm sitting there in front of my laptop and I think, "$3.99/month? That's pretty cheap."
Then I read a little bit more and discover they also offer managed hosting.
I'm like, "what's the difference?"
I run a Google search and learn that managed hosting is (in simple English).
Giving most of the responsibility of taking care of your website to a hosting company.
Now I know that's not exactly what they do but that's how I understood it at the time.
That was super appealing because as I said, I knew next to nothing about hosting and things. I was excited and I wanted it.
But there was one problem.
The price.
I was a college student and my income was whatever my parents gave me to go to school so I didn't have a lot of money.
Long story short, I went with the shared hosting and my website was frequently down.
Looking back, my site was down at least once a week. Sometimes more often than that.
But it was fine because nobody knew my website existed. I wasn't getting any traffic. 🙁
Eventually, though, things changed and I properly learned how to do marketing and getting people to visit my site so I needed better hosting.
That's when I came across Flywheel.
What is flywheel?
Flywheel is as they put it "a delightful platform that empowers designers, developers, and digital agencies to focus on what they do best — building beautiful, functional sites for their clients."
What does Flywheel have to offer?
Flywheel helps you "stop wasting time on server management, security plugins, caching, and all those other boring, repetitive tasks that take your focus away from growing your business and jeopardize your relationship with clients."
Here's how they do it:
Outstanding support
Think of the last time you had a bad experience with a company, how did it make you feel?
Frustrated, right?
If so, you are not alone, it happens to most of us.
According to Esteban Kolsky (CEO of thinkJar), if a customer is not satisfied, 13% of them will tell that experience with 15 or even more people and share that they are unhappy. On the other hand, 72% of customers will share a positive experience with 6 or more people.
67% of customers mention bad experiences as a reason for leaving, but only 1 out of 26 unhappy customers complain.
The rest, "They just leave", Kolsky says.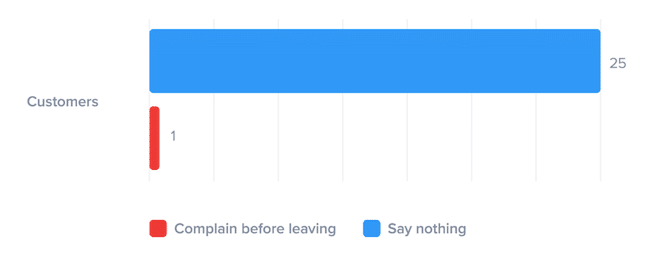 This was the case for me when I left Hostgator. I didn't reach out to tell them about their crappy uptimes. :s
But what about Flywheel?
The support team at Flywheel is super knowledgeable and equally polite. Every time I reach out they quickly answer my questions and when the answer is technical in nature, they always offer to do it for me. 😀
For instance, I recently visited my dashboard and noticed I had a message that said my PHP was outdated. It mentioned it wasn't a major issue but I should address it. Right after that, it said I had to reach out to support to get it fixed.
Here's a screenshot of my conversation with them: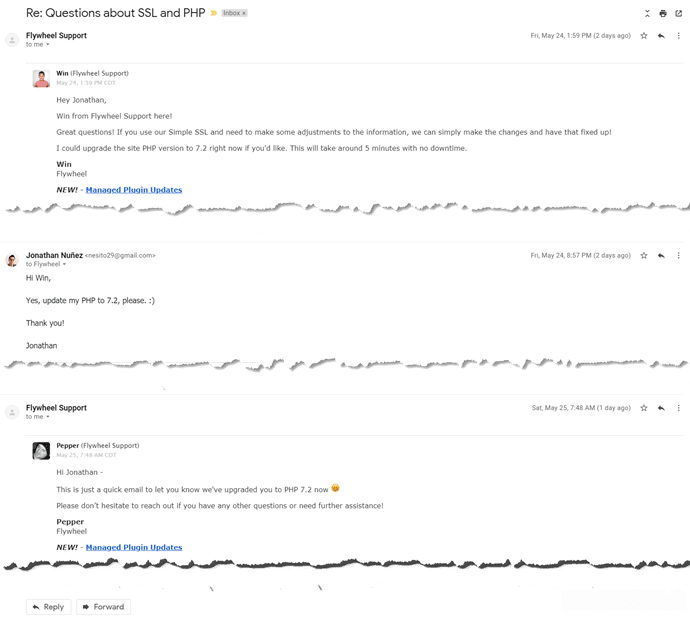 I removed signatures and the Avast message below my reply to reduce the size of the picture. Other than that, I didn't make any changes.
Why is this important?
Because according to a study by SupperOffice, "Only 20% of companies are able to answer questions in full on the first reply" but Flywheel does it every time I reach out.
Btw, their support team is available 24 hours/day if you need any help.
Here's what other people are saying about their support team:
Automatic WordPress upgrades
Before I changed to Flywheel I had to manually update my WordPress site every time they came up with an update. It didn't take long but it was annoying because I had to frequently check to see if there was a new version available.
Anyway, if you don't update your site and plugins, you risk leaving vulnerabilities exposed to hacker attacks.
Here's where Flywheel comes into play. They automatically upgrade your website to the latest version (in my experience it usually takes between 2-3 days). They also offer to automatically update your plugins too, however, that's a paid service that costs $8 USD/month.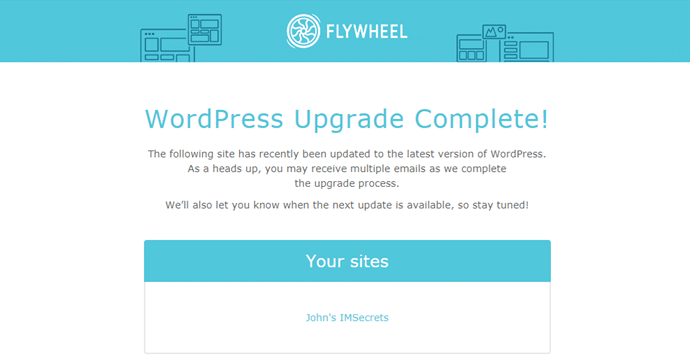 Why is it important?
It's no secret that WordPress is the most popular content management system in the entire web powering 34% of all websites. As such it's the most targeted by people with bad intentions.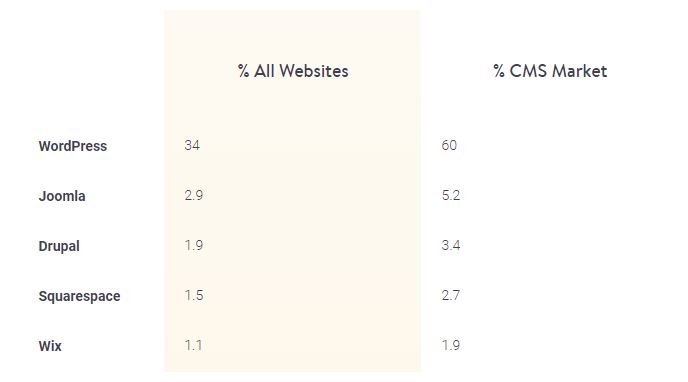 According to a CMS security analysis by Sucury, 90% of all the websites that get infected are WordPress powered. However, as Sucury says, "This does not imply these platforms are more or less secure than others. This data represents the most common platforms seen in our environment and reflects the overall popularity of CMS."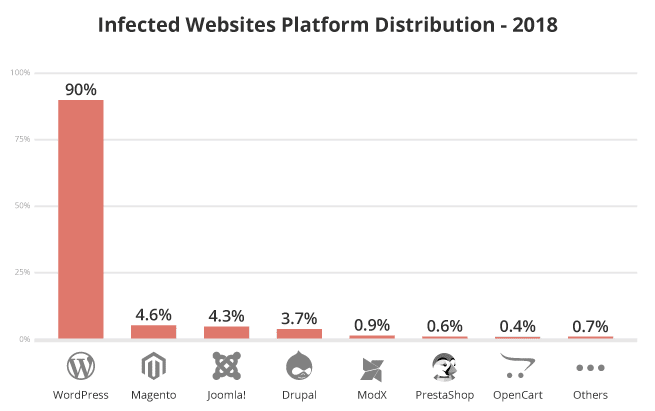 Free Simple SSL
Secure Sockets Layer, or SSL, is a security protocol that uses modern encryption to send and receive sensitive information all over the internet.
How does SSL work?
SSL works by creating a secure channel between a user's browser, and the website's server to which the user wants to connect to. Any information that passes through this channel is encrypted at one end and decrypted upon receipt on the other end. As a result, even if someone gets ahold of this information, it is of no use to them due to the encryption of the information.
Websites can enable SSL by acquiring an SSL certificate. Web browsers can detect this certificate, which lets them know that this particular connection needs to be encrypted.
You can easily recognize whether you are visiting an SSL-enabled site by spotting a tiny lock that sits next to the website URL. You can also recognize them via their use of the HTTPS protocol, instead of HTTP.

Why is SSL important for my website?
You might have seen services like TunnelBear, NordVPN, and ExpressVPN (just to name a few) sponsoring a ton of YouTube videos.
Because of that, people have become more aware of the importance of internet security over the past few years, which means SSL could prove to be highly advantageous for any website.
Here're some immediate benefits you can have:
Your website looks more professional
SSL encrypts information
You'll avoid the "Not Secure" warning in chrome
You'll get a minor boost to Google rankings
If anything, do it for the boost in Google rankings. Since Google made SSL an official ranking signal, websites without the certificate have been slowly disappearing from search results.
According to a study by Authority Hacker, "90% of the page one results already have HTTPS which shows most sites have now transitioned to SSL and Google is rewarding them for it. "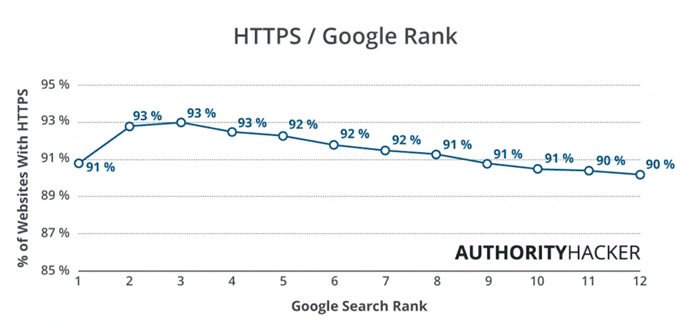 How can I install a SSL certificate on my domain?
Installing a SSL certificate on your website is very simple. All you have to do is click the add-ons option in the menu and then select SSL. After that, all you have to do is fill in the information they ask and you are done. 🙂
Here's what other people are saying about their SSL certificate: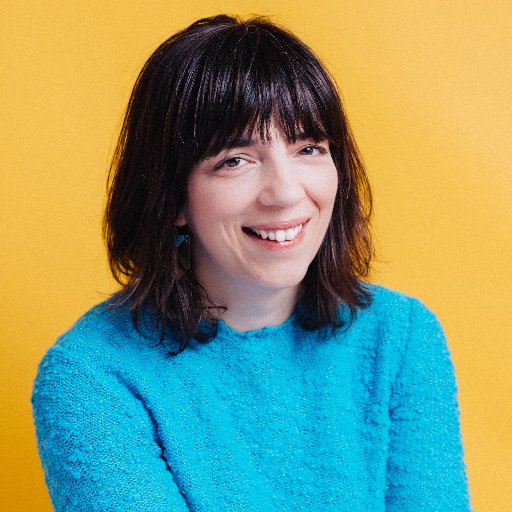 Daily backups
Here's something for you to think about: Imagine you wake up early in the morning and like usual, you prepare some coffee (or tea) and turn on your laptop.
You open Chrome and enter your website's URL but instead of seeing your usual home page you notice you are now selling some sort of mail-order prescription medicine.
You, my good friend, have been hacked. And a website backup might be the only thing fast enough to get you your website back.
According to Comparitech researchers, there are 70 hacker attacks on computers with Internet access every minute. That's 101,545 attacks in a 24-hour period. And according to Google, hackers steal almost 250,000 web logins each week.
I don't find this data surprising because hackers try to break into my website every day. Here's a screenshot of some failed attacks: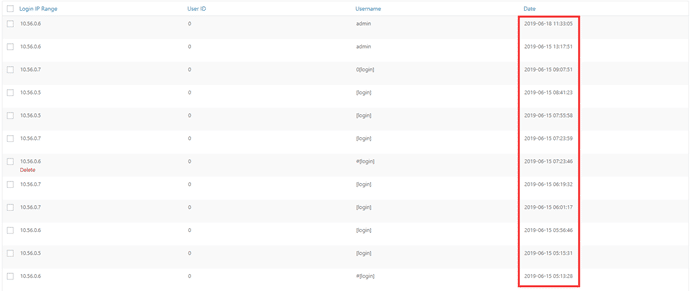 And my website isn't even super popular. I can only imagine what big authority sites have to deal with. Anyway, if you ever need to restore your website to an earlier version, you can do it on your dashboard.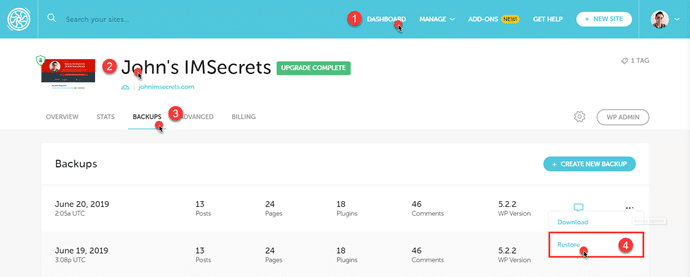 Here's what other people are saying about their backups:
Lightning-fast servers
Page load speed is the first thing you notice when you visit a website, but you will only notice it if the website is too slow. Page speed is a huge part of the user experience, so it's no wonder it's a ranking factor for both mobile and desktop searches.
Knowing that it begs the question:
How fast are Flywheel's servers?
Back on August 2, 2018, FLywheel announced its adoption of Google's cloud platform as a way of providing faster and more reliable service.
Since then websites hosted in Flywheel have seen improvements in their overall speed (of course, mine included).
Here's a screenshot of my blog's performance via PageSpeed Insights (Google's speed test tool):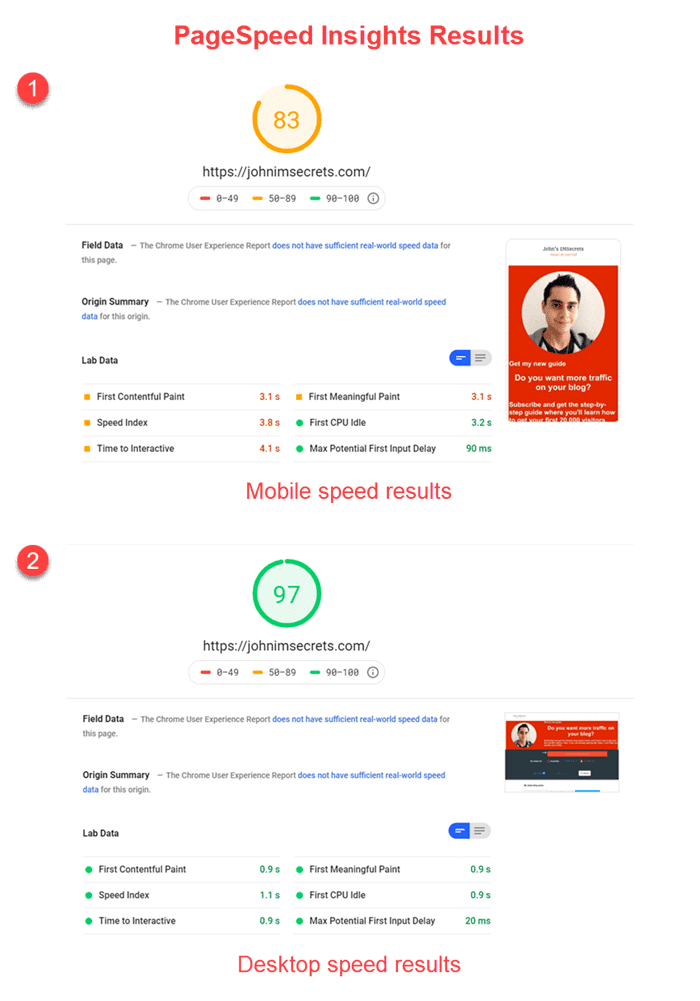 Here's what other people are saying about their website speed: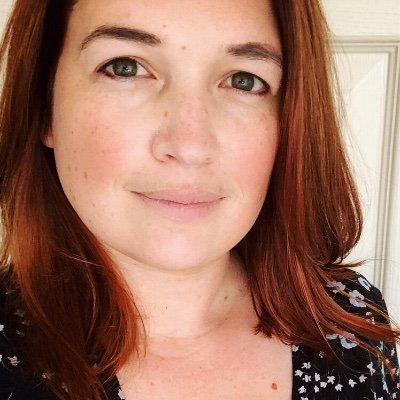 Lucy Cockerill
Marketer and Web designer
How can I migrate my website?
Migrating your website isn't difficult but if you aren't a technical person you are better off leaving this to Flywheel themselves. To have your website migrated, you have 4 options to choose from:
Standard
Zip upload
WP Engine
WordPress.com
Select the one that's appropriate for you and fill in the form.


To request your migration, you'll need to create a free account (click here to visit their home page). Then you just need to scroll down a little bit and click on "begin a migration".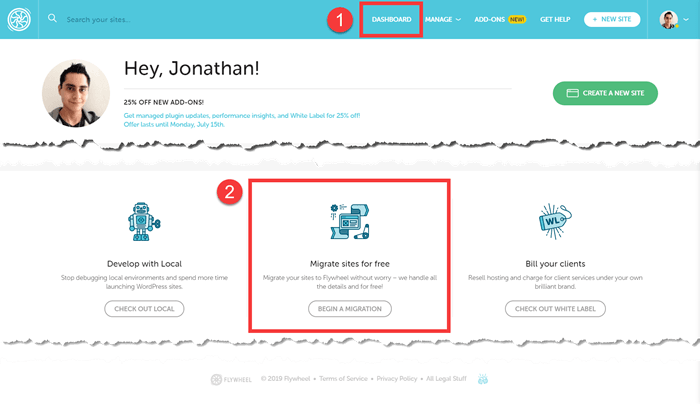 If you want to migrate your website yourself, you'll have to create a server backup and then upload it to your new server at Flywheel. To migrate your site, follow the instructions in this video:
Here's what other people are saying about their SSL certificate:
How much does flywheel cost?
In the picture below you can see the plans Flywheel has to offer.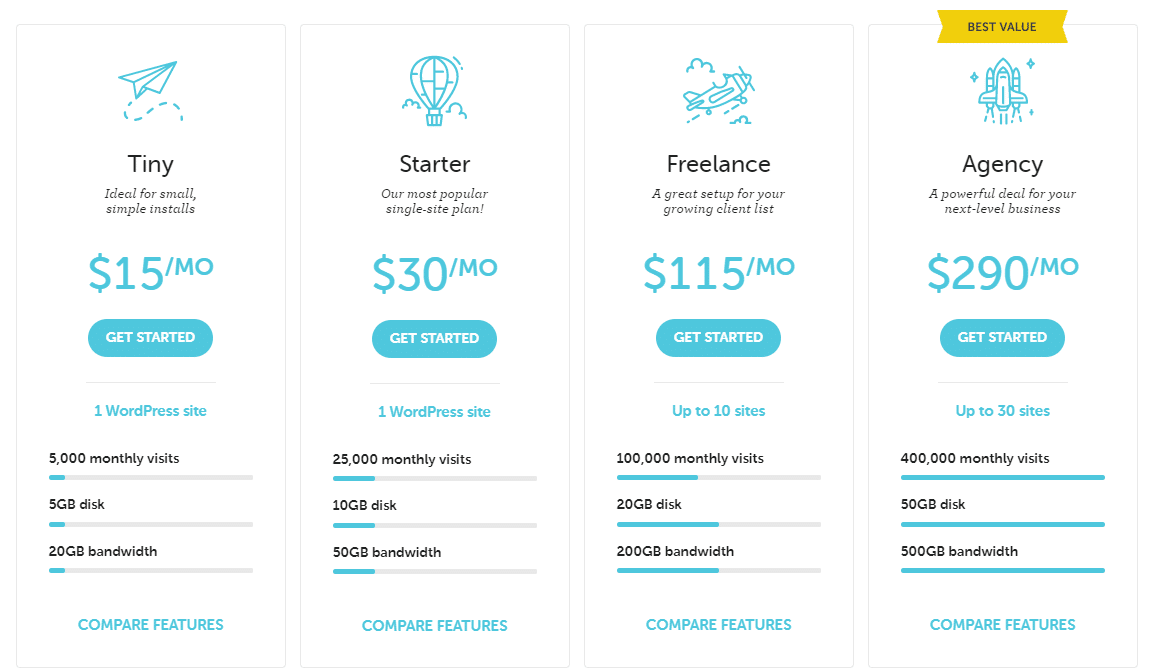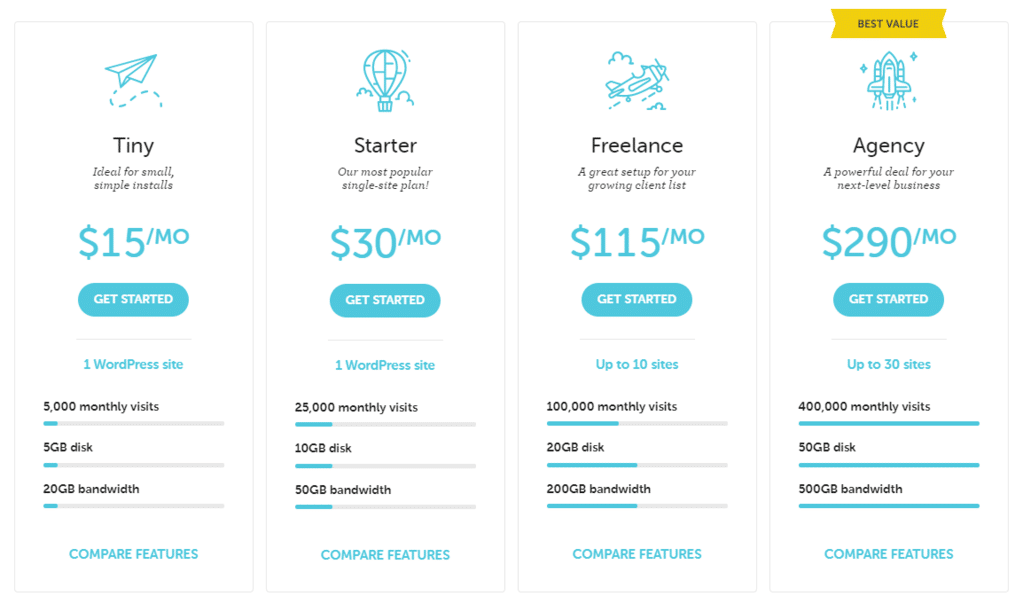 Since managed hosting is sort of a premium service, its prices aren't for everyone, but I can tell you that based on my years of experience as a Flywheel customer, it's an insanely cheap price for the wonderful experience they offer.
Also, if you take a look at other popular companies that offer managed hosting, then you'll notice their prices are similar but still more expensive.
3-month minimum commitment.
They claim unlimited but I call BS.
All the prices shown in the chart above represent their respective cheapest monthly plan available. To know this information, I directly reached out to each company and asked questions about their managed plans. That's also how I rated their support.
As you can see, Flywheel stacks up quite favorably in all cases. 🙂
Who is Flywheel for?
By no means is this the entire list, but it does include some common examples of the type of people/business/websites that find a ton of value partnering with a managed provider.
Creative agencies or freelancers building sites for clients
Site owners who don't want to deal with the technical details of web hosting
Bloggers and influencers whose reputation is dependent on their site
eCommerce sites selling digital or physical products who need reliable uptime
In-house marketing teams who want more control of their site (instead of going through IT departments)
Enterprise brands who need reliability, scalability, and expert support
Anyone reselling WordPress hosting
Again, this doesn't mean these are the only people who will benefit from managed WordPress hosting; it's simply a collection of common segments that managed hosts have built specific features for.
Key takeaways
Flywheel's servers are lightning-fast.
Their support team is super polite, knowledgeable and efficient.
Support is available 24 hours a day in case you need help.
Flywheel will automatically update your WordPress website to the latest version available.
There's simple free SSL you can request in under two minutes.
You can request a free migration of your website by filling out a form. It takes about two minutes to fill out.
Pricing is cheaper than the closest competitor and is ranked among the best.
Your website will have daily backups so you can use them to restore your website to an earlier version of itself (in case you ever need them).
Conclusion
Bain & Company surveyed 362 firms and found that 80% believed they delivered a "superior experience" to their customers. But when they then asked customers about their own perceptions, they heard a very different story. Customers said that only 8% of companies were really delivering."
This is sadly the case with so many companies out there and I'm not saying Flywheel is perfect. But the experience I've had with them has been truly wonderful, therefore, I invite you to give them a try.
Reach out to their support team, read what other people are saying about them and make an informed decision. And if this review helped you in any way and you decide to use Flywheel as your hosting provider, kindly consider using my affiliate link.
If you purchase through my link, I'll get a commission that helps me pay for my hosting and things like that. It comes at no additional cost to you and it helps me keep the website live to help more people. Thank you very much in advance. 🙂
Before I let you go, I always ask my readers to have a conversation with me so I have two questions for you:
What hosting provider are you using right now?
What's been your experience with them thus far?
Leave the answer to both questions in the comment section below.